Dyson Airblade Wash+Dry WD04 (Short)
Dyson Airblade Wash+Dry short hand dryer
Airblade™ hand drying technology in a tap. 3 models available.

• 14 second dry time1
• Hygienic performance with HEPA filter
• 76% less expensive to run than other hand dryers2
• 5-year guarantee3
Touch-free. Mess-free.
Wash and dry hands at the sink. The Dyson Airblade Wash+Dry hand dryer automatically switches between water and air, there's no need to touch taps or buttons.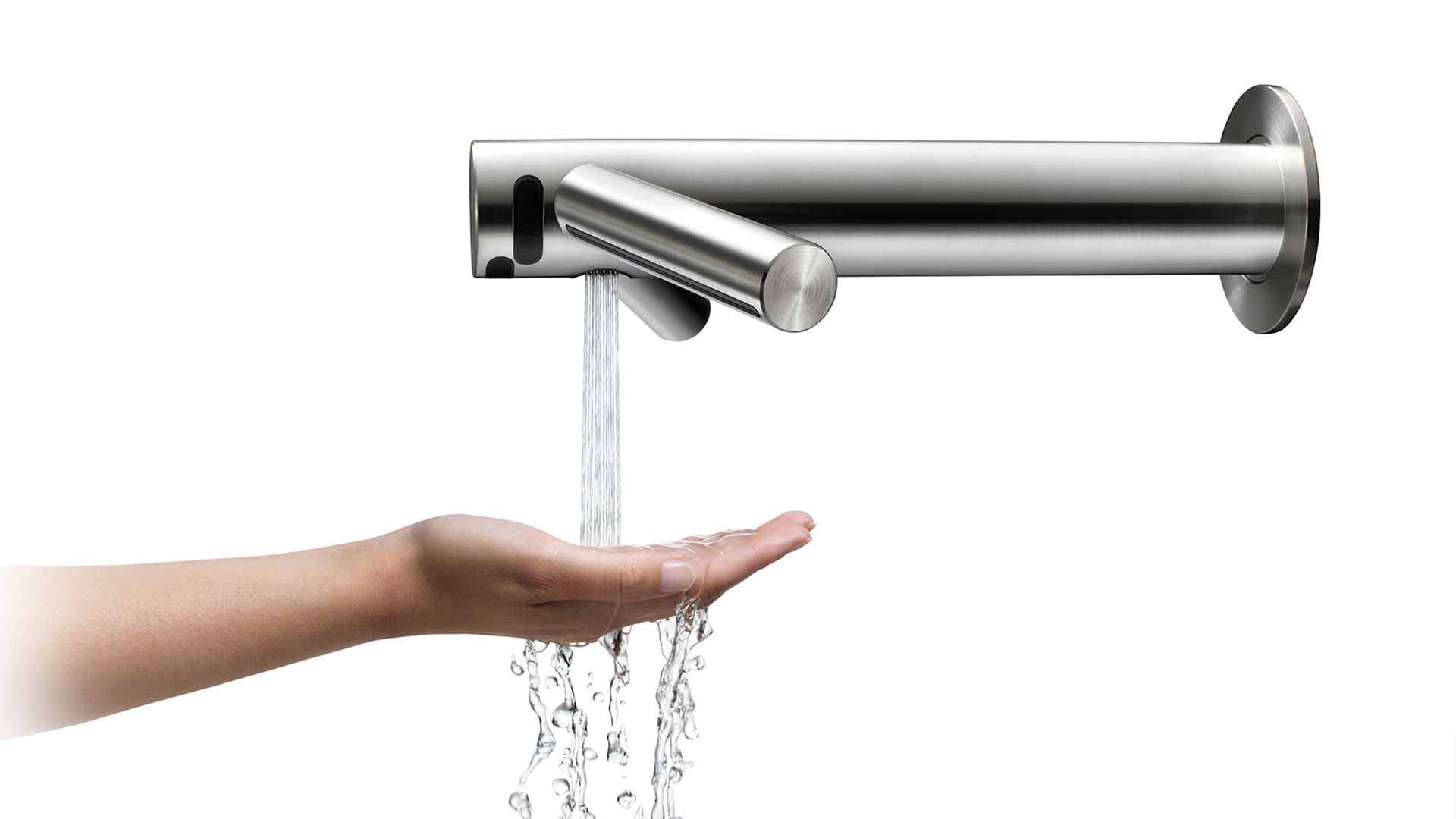 Fast. And energy-friendly.

Using Airblade™ technology, sheets of high-velocity air quickly scrape water from hands. Drying hands in just 14 seconds1 without needing energy-hungry heating.
Key technolog
blade™ technology
Clean air from the HEPA filter is forced at 549km/h through apertures 0.55mm wide, scraping water from hands, quickly and hygienically

Dries hands at 549km/h with the Dyson digital motor V4

The Dyson digital motor V4 uses digital pulse technology to spin at up to 81,000rpm – three times faster than a conventional motor. So it can draw up to 21 litres of air per second through the machine
Specifications
HEPA filter
HEPA filter as standard

---

Motor
Dyson digital motor - V4 brushless DC motor

---

Exterior screw type
Torx T15

---

Input voltage
200-240v

---

Rated power
1,000w

---

 

Operation lock-out period


30 seconds

---

Operating airflow
21 l/s

---

Frequency
50-60hz

---

Dry time
14 seconds1

---

Motor switching rate
5,400 per second

---

 

81dB

---

Bacteria removal
Captures 99.95% of particles the size of bacteria

---

Motor speed
Up to 81,000rpm

---

Standby power consumption
Less than 0.5w

---

 

Height
159mm

---

Length
286mm

---

Width
303mm

---

 
Enjoy shopping at Jebsen Corporate Solutions Online Store with few steps:
Register / login at

Jebsen Corporate Solutions

Online Store
Browse or search your items
Select quantity and click "Add to cart" button to add the items in your shopping cart
Click the shopping cart button on the top right corner after shopping
Click "Proceed to checkout"
Fill in your delivery information and select payment method
Confirm the order and transaction is completed
Useful information (please help list with the URL)
Jebsen Corporate Solutions
General Enquiry
jcs@jebsen.com
(852) 3180 3020 / Whatsapp (852) 6874 1076
Monday - Friday: 9:00AM - 6:00PM
Closed on Saturday, Sunday & Public Holidays
Data Protection
dataprotectionoffice@jebsen.com
Warranty and Product Enquiry
(852) 2926 2300
Monday - Saturday : 9:00AM - 6:00PM
Closed on Sunday & Public Holidays
Delivery
For order delivered by
SF Express: (852) 2730 0273
Others: (852) 2926 2324
Shipping destinations
Free Shipping and Shipping Fee
Jebsen Corporate Solutions offers free shipping on all orders if the order amount is above HK$500 except the below outlying Islands and non-urban areas* in Hong Kong.
*All order value on above table refer to order value after discount and in HK$ currency.



*凡須送貨到不設電梯的樓宇或因貨品過大,或不能使用升降機運載貨品時,顧客須繳付每層HK$50之搬運費
*In case where an item to be delivered cannot fit in a lift or be transported by the lift, or no lift is available for goods delivery, which will require the delivery staff to walk up the stairs, there will be additional delivery charge of HK$50 per floor
Shipping lead time
Hong Kong
Macau
2 – 5 days
3 – 7 days
*Remarks:
1. All the lead time stated above is based on business day of Hong Kong
2. The above lead time table does not refer to pre-order item.
3. The above lead time does not refer to product that needs installation.
P.O Box
Please note that we cannot ship to P.O boxes. We kindly ask you to provide an alternative address which is not a P.O box.
Remarks:
The above delivery fees exclude the charges incurred if the delivery address does not have lift, cannot fit into the lift or the deliver needs to walk through a floor of staircases. A surcharge will be required which is charged by the deliver. Please contact our CS department prior to your order if you would like to get a quote on the exact surcharge which your deliver address fall in this situation.
Order Tracking
Your order would be delivered by Jebsen Logistics or S.F. Express.
For Jebsen Logistics order, please contact Jebsen Logistics hotline at (852) 3180 3030 for tracking your order delivery status.
For S.F. Express orders, please enter your waybill number (tracking code on shipping confirmation email) on S.F. Express website to track and trace your order delivery status. If the you order has been picked up by S.F. Express, please contact S.F. Express Customer Service hotline at (852) 2730 0273.